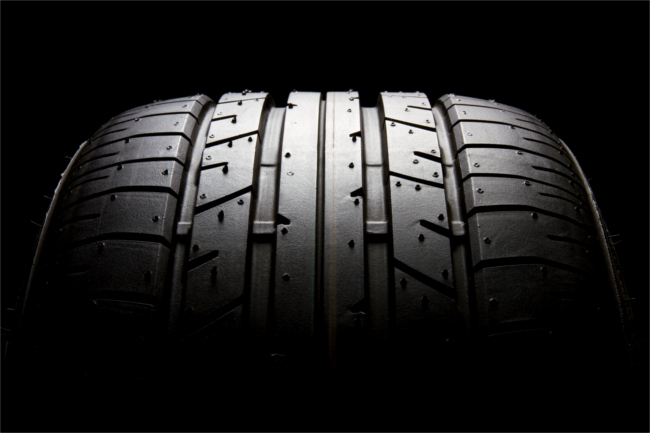 Here at Evans Tire and Service Centers, our goal is to pass on basic tire and automotive knowledge to our customers so that they can regularly maintain their cars. This keeps our customers happy and the need for large maintenance jobs minimal, which keeps their wallets full and stress levels low. San Diego's roads, where potholes and bad roads are the norm, are especially tough on tires. With ever expanding and improving tire technology, it is tough to know the important details of your tires. For your educational enjoyment, here is a simple breakdown of the anatomy of a common tire, and a simple and inexpensive way to extend the lifespan of your tires.
Rubber Liner
The inside most layer of your tire is made up of a synthetic butyl rubber liner, which is made of a polymer impermeable to gases in order to prevent any air from escaping the tire.
Carcass Ply
Plies are the layers of fabric that make up the body of your tire. These layers are responsible for the bulk of the strength of your tires. The most common cord is made up of polyester, and presents exceptional head resistance as well as controllability.
Beads
Located on the inner edge of the tire is the tire bead. The bead is a high-strength steel cable coated with rubber that runs along the inner circumference of the tire. The main responsibility of the bead is to hold the tire firmly against the rim of the wheel.
Sidewall
The sidewall is the outermost layer on the side of the tire, and is what you see most. It is designed to protect the tire from curbs or any other objects you may hit on the road. The sidewall also adds another layer of protection from leaking air, and contains speed rating, load rating, and tire dimensions marked in a clearly visible place.
Tread
The tread is the most worn part of your tire. It provides the friction needed to stay safe on the road, and is made from a mixture of many types of natural and synthetic rubbers designed to divert water from beneath your tire to improve traction in wet conditions.
It can be difficult to fit regular car maintenance into your busy schedule, so an easy solution is to use a tire sealant on your brand new or older tires. A tire sealant such as Ride-On Tire Protection System is designed to prevent flats from punctures by containing fibers six times stronger than steel. The sealant also improves the lifespan of your tires by reducing the operation temperatures of the tire. The price range on these sealants are varied dependent on the quality you chose, but the money saved in the long run by using these products make the initial fee well worth it.